Here Are a Few Tips When Searching For a Pianist in New Jersey
When you are searching for a piano player in north, central, or south New Jersey, if you really want to make sure that the live music is going to be great, here are some pointers that I will share with you based on my over-20 years as a professional Pianist in NJ.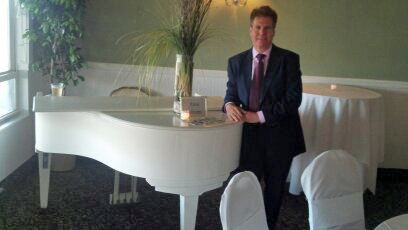 ---
NJ Pianist Arnie Abrams at a Merrimakers cocktail hour
Natural Talent and Musical Versatility
When you are ready to hire your New Jersey piano player, you absolutely want to make sure that your musician is going to be as musically versatile as possible. This is very important because the audiences at weddings, parties and most other events are going to vary quite widely, both in age and in musical preference. The piano music should be able to 'touch the hearts' of most everyone at your event.
If your musician can perform songs by George Gershwin, Cole Porter, and Jerome Kern, as well as play selections by Billy Joel, Elton John, Christina Aguilara and Aerosmith, you'll know that he will 'touch the hearts' of many more guests at your celebration. Not only the song selections matter, but the pianist's styles also matter. If you do not want your music to sound the same all night long, hire a pianist who can play popular, jazz, ragtime, classical, rock, and swing.
There are always some classics that are well-known by people of any age, like songs from The Beatles, some popular Broadway hits, and of course, Frank Sinatra tunes. However, the more musically diverse your pianist is, the easier it is going to be for everybody at your NJ event to relate to the music and to have a great time.